Ready to grow your brand and get attention? We can help you get there with a vehicle wrap. As the first certified and trained wrap installers in Southern Oregon we have been installing wraps for over 20 years.
Creating wraps for multi-vehicle fleets or food trucks, our in-house designers can handle any design challenge you throw at them. We pair our clients with experienced designers and put no limit on revisions.
From nationwide mega-fleets to local small business fleets, we are uniquely equipped to handle multi-vehicle branding of any type. Quality prints using advanced Latex inks and Avery vinyls sets The Sign Dude far ahead of the competition. Our designers are trained in the art of eye-catching advertisements, and our climate controlled install facility allows us to turn high-volume wraps around in record time.
We stand behind our work, offering a full 4-year warranty on wrap installations by The Sign Dude. No one else backs up there wraps like we do, and no one else invests the time into the initial design, planning your install out for a seamless installation that will last for years.
Take your creativity to the streets with unlimited design options.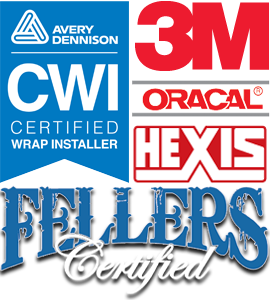 Car Wrap FAQ
What questions should I ask when getting a quote on a wrap?
Jim
2017-09-25T22:33:49+00:00
The Sign Dude recognizes that your vehicle is an extremely important asset and that making a decision to design and install this type of advertising is an investment. That said, we encourage you to consider your options carefully.  So here are some questions we suggest you ask when researching wrap companies:
DO YOU REMOVE AND REPLACE ALL THE EXTERNAL TRIM WORK ON THE VEHICLE WHEN YOU PERFORM A WRAP OR JUST "CUT AROUND IT"?
DO YOU USE ONLY TOP QUALITY, PROFESSIONAL WRAP PRODUCTS (SUCH AS AVERY DENNISON AND/OR 3M)?
DO YOU USE LATEX INKS?
ARE YOUR INSTALLERS PROFESSIONALLY TRAINED BY OTHER WELL-KNOWN WRAP INSTALLERS?
DOES YOUR COMPANY PERFORM ALL SERVICES ON-SITE IN A CLIMATE CONTROLLED ENVIRONMENT?
DOES YOUR COMPANY EMPLOY TALENTED GRAPHIC ARTISTS OR IS THIS WORK "FARMED OUT" TO CONTRACTORS?
DO YOU PROVIDE TRULY CUSTOM DESIGNS? OR DO YOU USE GENERIC TEMPLATES AND FONTS WHICH ARE ONLY CUSTOM IN THAT YOU ADD OUR COMPANY NAME?
DO YOU HAVE THE CAPABILITY TO PROVIDE DETAILED CUSTOM GRAPHICS SPECIFICALLY DESIGNED FOR ALL MAKES AND MODELS OF CARS, TRUCKS, VANS, TRAILERS, BOATS, LIGHT AIRCRAFT, AND SIGNAGE?
ARE YOUR COMMERCIAL-WRAP CUSTOMERS RECOGNIZABLE NAMES AND BRANDS? CAN YOU SHOW ME YOUR PORTFOLIO AND/OR A WRAP SIMILAR TO WHAT I AM REQUESTING?
HOW LONG MUST YOU KEEP MY VEHICLE?
ARE YOU BONDED AND INSURED?
Vehicle wraps are the future of advertising and are only growing in popularity as time goes by. Since the world is not likely to slow down, vehicle wraps will pick up speed – so it's wise to keep up with your competition, or beat them to the punch.