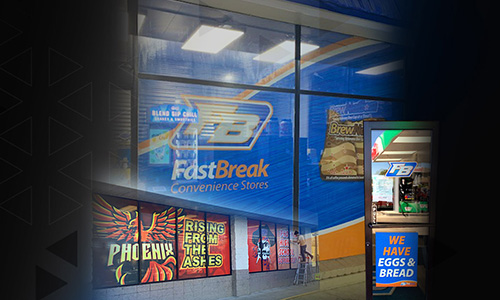 Custom Window Graphics
Custom window graphics provide an efficient and cost-effective way of marketing your business outside. Our design team can put together stunning displays, quality content, and stimulating artwork, window graphics can increase brand awareness and compliment your office decor or storefront.
Window Graphics provide unlimited possibilities
We offer infinite options for retail and environment window graphics and will have them expertly installed by our professional installers.
From designing and installing thousands of window displays at a time for national brands, or solving a visibility issue for a local office, our team at The Sign Dude can get your windows covered.
The advertising industry is constantly changing, but traditional advertising methods, like window graphics, will always be worthwhile, especially in areas that receive pedestrian or drive-by traffic. Window graphics reach the most relevant people to your business–your customers, the people who will most likely be doing business with you.
The Sign Dude offers: 
Privacy & Frosted Glass Vinyl both printed and solid colors
Decorative light altering films
Permanent or Temporary
One-Way viewing / Perforated
Security & break resistant films
Single and Double sided graphics
Custom Shapes
I appreciate all the help I had from day one. I went in to just get signs made and ended up getting logos, cards, website and postcards BECAUSE YOUR AWESOME and all the people there made me feel like I was a priority. Thank you to the whole staff !!!
We have been using The Sign Dude to do for business purposes and personal Since 2000. Dan has always taken very good care of us. We really appreciate the work that Matt and Dan did revamping our logo, the logo is perfect!
Truthfully this experience was perfect in every way. And I rarely ever say that. From phone conversation to making it happen with a custom logo…doesn't get any better. Thank you
The designs illustrated your "Wow" effect.
Thank you all! From the hello at the front desk, to the air hi-five with the design crew, everyone was awesome!! Thanx again.
We have loved our sales team and designer! They are a great team!
Sign Dude really pulled all the stops. From design to implementation, their ability to execute a phenomenal design is amazing. We are flabbergasted by how seamless the process was, how quick the design was rendered and then installed. Thanks, Sign Dude! You guys are top notch!
Perfect, not a single change. That's why we come back to work with Matthew over and over.