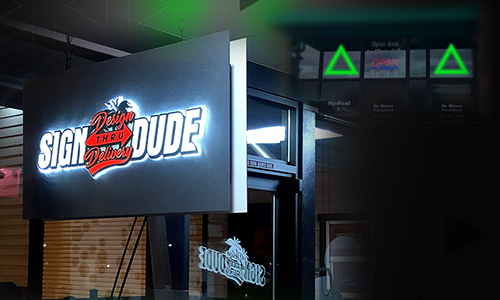 LED Lighted Window Displays
We build brands that inspire. Branding is about expressing a company's personality and values, building a comprehensive and consistent experience that resonates with customers and nurtures lasting relationships. A Logo is often times a vital part of your brand identity. We work collaboratively to create the most truthful, compelling, and beautiful image of your brand through a logo. Supported by diligent research and fearless iteration, we explore many possibilities before arriving at a comprehensive and versatile identity for your business.
Our Approach to Logo Design
Trust your logo design to our talented design team, with decades of retail & commercial logo design experience.
Our all-inclusive approach starts with getting to know you and your vision. Your vision is the heart of a logo. For our team it defines what a your brand is, its benefits and competitive advantages, and what it means to the target market. We will spend time one-on-one with you to make sure our designers are heading the right direction.
Along the way we will provide you multiple proofs, and multiple rounds of revisions getting your logo to a place that represents your brand clearly.
Once your logo is complete, YOU will own the artwork. We provide you with all the file formats you'll need, and get you started in developing attributes to support your logo.
I appreciate all the help I had from day one. I went in to just get signs made and ended up getting logos, cards, website and postcards BECAUSE YOUR AWESOME and all the people there made me feel like I was a priority. Thank you to the whole staff !!!
We have been using The Sign Dude to do for business purposes and personal Since 2000. Dan has always taken very good care of us. We really appreciate the work that Matt and Dan did revamping our logo, the logo is perfect!
Truthfully this experience was perfect in every way. And I rarely ever say that. From phone conversation to making it happen with a custom logo…doesn't get any better. Thank you
The designs illustrated your "Wow" effect.
Thank you all! From the hello at the front desk, to the air hi-five with the design crew, everyone was awesome!! Thanx again.
We have loved our sales team and designer! They are a great team!
Sign Dude really pulled all the stops. From design to implementation, their ability to execute a phenomenal design is amazing. We are flabbergasted by how seamless the process was, how quick the design was rendered and then installed. Thanks, Sign Dude! You guys are top notch!
Perfect, not a single change. That's why we come back to work with Matthew over and over.