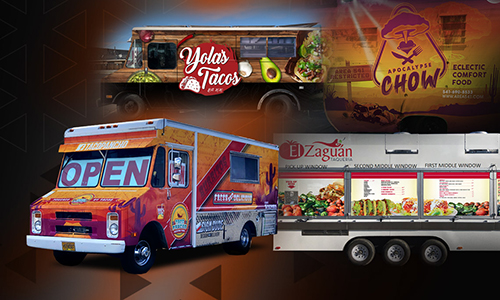 We Are the Food Truck Marketing Experts
We love food trucks, and we love working with our business clients to produce food truck wraps that build brand awareness, and generate attention for short and long-term advertising and promotional use. Whether you are driving around town, or parked at a visible intersection, a full or partial wrap is an effective tool, used to create maximum impact for your business and draw attention.
Your Full-Service Wrap Shop
We offer the only COMPLETE 4-Year Warranty in the market. Not only on material, but on everything, Design thru Delivery!
Since 1993, The Sign Dude has provided business vehicle wraps, fleet graphics, color-change wraps and protective films. Whether you have one work vehicle or hundreds, commercial wraps and fleet graphics allow you to advertise in a cost-effective, high-return platform that follows you everywhere you go.
Using 3M and Avery Dennison films, as well as various other specialty overlaminates, we can produce appealing and long-lasting wraps that get your business lots of attention.
Wraps not only advertise your business, but protect the original paint and finish, increasing the retail value. And with our 4-year warranty, that matches up with the average turn-over of a commercial vehicle, you can have years of worry free advertising.
You guys did great and Susan was awesome. Thanks!
Thank you so much, especially for your patience and prompt communication. I won't be doing business anywhere else ever.
Sign Dude really pulled all the stops. From design to implementation, their ability to execute a phenomenal design is amazing. We are flabbergasted by how seamless the process was, how quick the design was rendered and then installed. Thanks, Sign Dude! You guys are top notch!