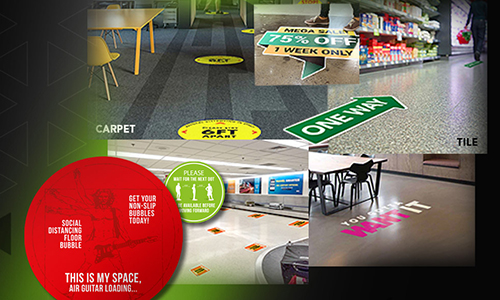 Interior & Exterior Floor Graphics
We where printing floor graphics way before COVID-19 made them cool. Today we have all grown accustom to seeing them used for social distancing, but floor graphics can be used for both retail decorational displays as well as promotional messaging in retail and beverage environments.
Easily add style to your business, school, bar or warehouse floor.
All floor decals are NOT the same. We have three non-slip styles to best fit your need.
The Sign Dude offers three unique types of materials, all available as non-slip material for floors.
Carpet Application – This style does not leave behind a residue that will attract dirt in the future.
Outdoor Application – This style has an aluminum liner that conforms around textured outdoor surfaces, adhering to asphalt and concrete.
Standard Application – This style will adhere to most any interior surface, and works on solid surface floors.
All of the floor graphics produced at The Sign Dude are washable and scuff resistant. Easy to remove as well as apply and long lasting for commercial environments.  Available in any size or shape that meets your brand need for floor graphics.
I appreciate all the help I had from day one. I went in to just get signs made and ended up getting logos, cards, website and postcards BECAUSE YOUR AWESOME and all the people there made me feel like I was a priority. Thank you to the whole staff !!!
We have been using The Sign Dude to do for business purposes and personal Since 2000. Dan has always taken very good care of us. We really appreciate the work that Matt and Dan did revamping our logo, the logo is perfect!
Truthfully this experience was perfect in every way. And I rarely ever say that. From phone conversation to making it happen with a custom logo…doesn't get any better. Thank you
The designs illustrated your "Wow" effect.
Thank you all! From the hello at the front desk, to the air hi-five with the design crew, everyone was awesome!! Thanx again.
We have loved our sales team and designer! They are a great team!
Sign Dude really pulled all the stops. From design to implementation, their ability to execute a phenomenal design is amazing. We are flabbergasted by how seamless the process was, how quick the design was rendered and then installed. Thanks, Sign Dude! You guys are top notch!
Perfect, not a single change. That's why we come back to work with Matthew over and over.
Social Distancing Stickers
Jim
2021-02-22T18:09:18+00:00