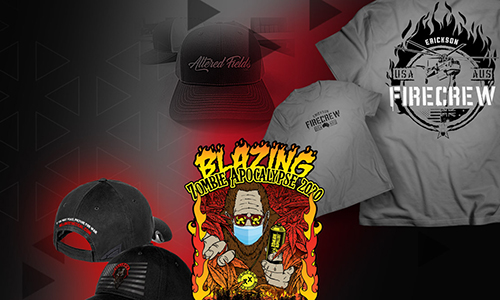 Custom Printed Shirts & Hats
Aisle markers, grocery aisle signs or store aisle signs. All produced in Sothern Oregon at The Sign Dude, to your specifications and designed around your brand. Working with many sectors of the retail industry including the food display marketing industry, liquor stores and convenience stores as well as small and large grocery stores and hardware stores. Help clients find there way, and create a cohesive branded environment throughout your store.
Hanging Aisle Signs
Provide shoppers with directional way finding in your store so that they can locate what they are shopping for, while reinforcing your branding.
When designing supermarkets, mall or grocery store floor plan layouts retail architects and store designers often specify the use of hanging aisle signage. They are generally hung above the gondola shelving or retail floor displays. They provide shoppers with directional way finding in the store so that people can locate what they are shopping for. Supermarket interior design specialists and those who are involved in small store design all have the same design issue. How to allow the customer or shopper to be able to find small products in an environment where there are so many things competing for your attention.
The Sign Dude is your expert in aisle signs. We can help develop a aisle sign that meets your needs
Aisles signs are also common in warehouses, factories, grocery stores, shops and other retail or storage areas. They generally have shelving to either side of the aisle. In warehouses or in factory aisles they are usually made up of the space between warehouse racking, pallet storage or between work areas.
Sign Dude really pulled all the stops. From design to implementation, their ability to execute a phenomenal design is amazing. We are flabbergasted by how seamless the process was, how quick the design was rendered and then installed. Thanks, Sign Dude! You guys are top notch!
Grange Co op Aisle Signs
Jim
2021-02-22T20:38:22+00:00