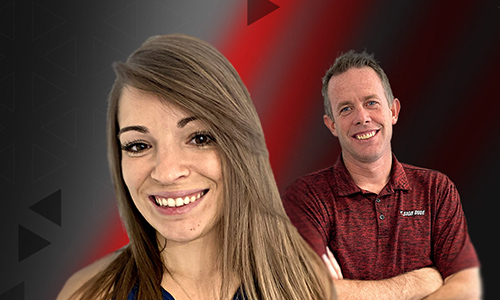 Britney Croslow
Upon transferring to The Sign Dude, Britney applied her business, management, and marketing experience to managing all customer facing teams. Her role is to coach the teams through customer service, communication, product knowledge, and business marketing to help drive The Sign Dude to exceed our mission, vision, and strategic goals.
Through diligence, critical thinking and developing trust, Jim has built lasting relationships with clients, colleagues, and partners. With a background in marketing, Jim began his career 30+ years ago operating a printing press. Having led teams at start-up businesses, as well as billion-dollar organizations, Jim oversees all operations of The Sign Dude.
Jim and Britney have worked together for over 10 years, and work as a team on strategic clients and services to make your project a success.
Contact Britney Croslow
Sales & Strategic Service Manager
As I support each of our other teams and ensure our customers are provided with WOW moments throughout each project, this team is only working with national partners. If you need assistance with finding the right team, or have any additional questions feel free to reach out, we are still here to assist you. 
Teamwork
makes the
Dream Work!
We work together on your project as a dedicated team. Putting our unique skills to work for you. Your Account Executive is your go-to through each project, while supporting them your Project Coordinator works between each of our internal departments to make sure your project is on-time and meets your needs.
The Sign Dude team amazes us everyday. We appreciate the teamwork and 20+ year partnership. We could not do what we do without the support of your team. Nothing to improve on at this time. Keep it up!
Honestly, I don't have anything negative to say. Britney Croslow responded very quickly to every email. She also sent a few examples of what we were looking for. After I picked up the order, she did a follow up email just to make sure everything was as expected. I thought that was a really nice touch.
I really appreciate Jim's prompt, professional, thorough service. Thank you!
I honestly can't think of anything. Britney was a pleasure to work with and was very responsive. The signs for our graduating students are beautiful!
Jim was more than helpful. He asked me to come in, took all of my contact information and took my order. He had it complete in a timely manner and provided me with more than I asked for.